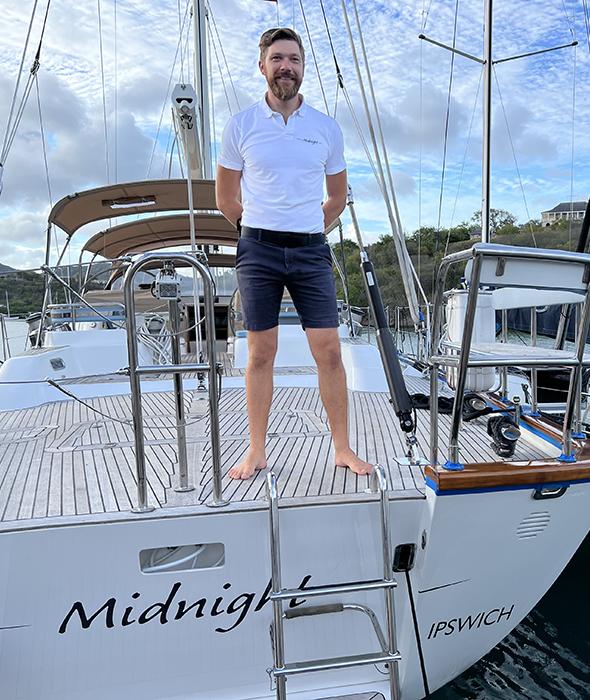 Captain
James Richman
James was born and raised in Suffolk England. Very much the adventurous type he took to sailing from the age of six when he undertook his first RYA course sailing a Mirror dinghy. He made the steady progression to yachts from dinghies in his teenage years, cruising the east coast of England and crossing the North Sea to Northern Europe.

At eighteen he became a dock master at the local marina, a dream job that allowed him to pursue his passion for boats. Two years later James was on his first Atlantic crossing, taking part in the 2009 ARC. He spent the season in the Caribbean taking part in regattas and working as a deck hand on charter yachts. He sailed back to the UK after his first season and undertook some educational qualifications, doing delivery work in between to fund it. James achieved his Yachtmaster and has spent his subsequent career between the UK, Caribbean and Mediterranean.

James was also a reservist for the Royal Navy. He passed basic training in 2013 at HMS Raleigh where he was appointed class leader and won the Captain's prize for best recruit. The Navy allowed James to further practice his passions for team work, good seamanship and professionalism. He met his partner Elyse in 2013 in Antigua. They have been together ever since and have worked together on a number of different yachts around the world and were married in 2019. James has over 70,000 sea miles and has raced in offshore campaigns including the Fastnet, Caribbean 600 and the Middle sea race. He has cruised extensively with Elyse around the Mediterranean and Caribbean and has crossed the Atlantic several times. Sailing is a career and a hobby for James and he enjoys every minute of being afloat.

MATE: James and Elyse will be joined by a mate / stew to provide top service.